Fine, Exotic & Natural
Our products are handmade in Bolivia of 100% super fine alpaca wool and baby alpaca of the finest quality. We offer sweaters, cardigans, vests, scarves, shawls, ponchos, rugs, various accessories and baby and children clothes all hand made. Our products can be acquired in 25 different colours – both natural and dyed with ecological pigments. Our wide colour collection is continuously following international fashion.
The Incas said that the Alpaca was a gift from the Pachamama – the Mother Earth – given to the Incas only as long as they were properly cared for. The Alpaca belongs to the Camel Family (Camelidae) like the Llama and the Vicuña. They live in the high Andes Mountains of South America in altitudes between 3,500 m (11,500 ft) to 5,000 m (16,000 ft) above sea level. To the Incas, textiles were an important source of wealth, of which Alpaca wool was one of the softest, finest and most luxurious ones.
Eco-friendly from
the high Andes
Our wool comes from Alpaca animals who live free in the high lands of the Andes region. Their food source are the natural fields of the Altiplano, and no industry is involved on their breading, which is based on their traditional techniques. The wool is sheared preserving the well-being of the animal and the environment they live in. Their wool is soft and warm due to their unique thin fibers.
All the production process is 100% ecological including our dyed wool that is ETAD's Code of Ethics certified with regard to product safety, environment management and responsible care practices.
Ethical & Fair Trade
The people who produce our products work in their own home-based workshops. Many of these families have for several generations manufactured fabrics and accessories for clothing in Alpaca wool. They use the traditional Andean techniques for weaving and making macramé.
The handwork is made mostly by women from low income families. Many of them come originally from the rural areas, and have moved to the city pursuing a better life. These women are empowered to be independent, in a highly 'macho' society – like most Latin American – in which family violence, alcohol consumption and gender inequality are shockingly common.
Working with AE allows these women and their families to improve their life quality, enabling them to secure health and education for their children. They have flexible working hours, and can work while taking care of the household. It means a lot for these women to be able to earn their own money, and have the possibility to be independent.
AE's social responsibility is not only to provide jobs, but also to reward their work fairly, which distinguishes us from the general industry.
When you buy AE products, you help transform the lives of Bolivian women and their families.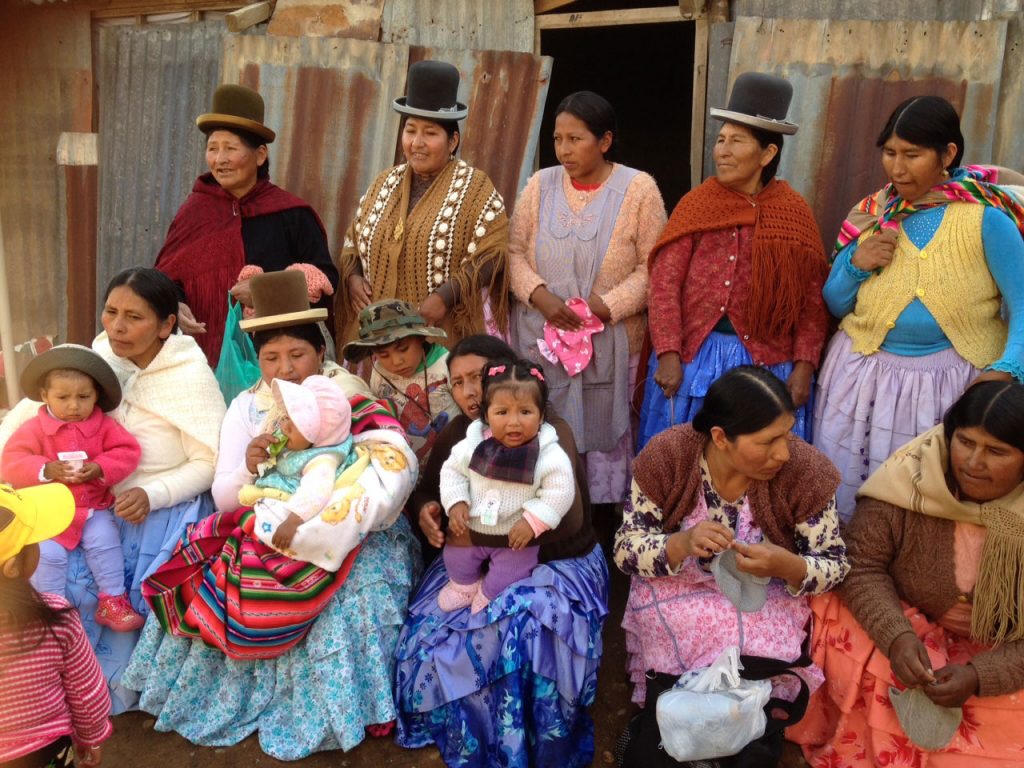 What we do
Our occupation is to export handicrafts, fabrics and accessories of high quality for clothing made of alpaca wool manufactured by Bolivian artisans. The export stems from the need of the artisans to sell their products on external markets to which their access is limited.
We have for many years been working with technical and handwork capacity development, to secure a sustainable development for the artisans and small enterprises occupied with manufacturing fabrics and accessories for clothing in alpaca wool.
Hanne Errboe started Alpaca Export in 2006, after 20 years working in development projects with several Danish NGO's. Through education projects for women from rural areas, Hanne met the women that today are able to work producing alpaca clothing, and thereby being empowered to independence.